The Shortcut is considered a type of content. Please review Adding Content for a full explanation of how content is added in various places throughout Project Insight.
Shortcuts are added in order to provide a link to content which is usually contained outside of Project Insight, although they can be used to link to pages in Project Insight as well. Using the add icon

in various places throughout Project Insight will allow you to add a shortcut.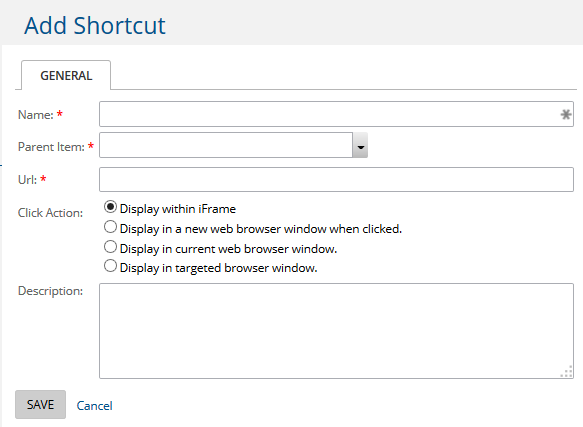 Name is the name you give to the shortcut.
Parent Item is the place in the folder structure where you are adding the shortcut.
URL is the link information for the shortcut.
Click Action enables you to chose from a drop down list how you would like the link to open.Options include:
Display within iFrame
Display in a new web browser
Display in current web browser *
Display in a targeted browser (if selected will provide you with a text box for the Window Target)
* If the shortcut is to a file on a local file system which will be opened by a desktop application, "Display in current web browser window" is recommended. The application associated with a local file will normally be launched to open the file separate from the browser without requiring any additional configuration.