Reporting on Comments can be created and reviewed to see the and history of comments added to items. More information on comments can be found in the Item Comments Tab topic.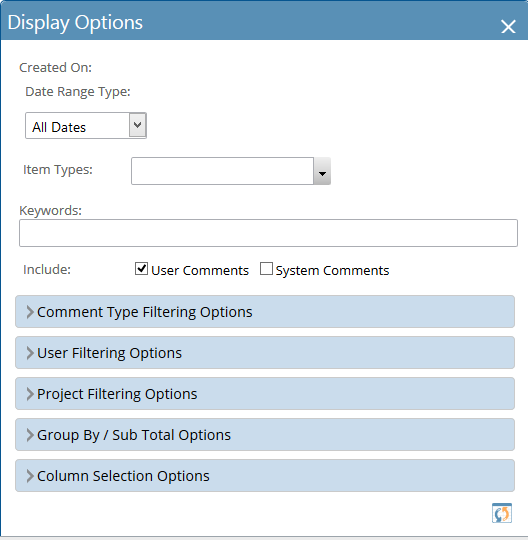 Date Range Type
The initial display above includes the option to select date ranges for the report.
All Dates - Chooses all items regardless of the dates. This option is not available for all reports or filters (so may not appear in the drop down list). As a caution, when it is available, it is recommended that it is used only with small sets of data, otherwise your results will be very large and it may take a long time to generate the report.

Dynamic Dates - Are a preset ranges of dates that are commonly used, such as current week, current month, last month, next year and that change automatically. If a report is saved with these settings or a filter is remembered with these settings, the next time report is run of the filter is applied, the date range will change automatically relative to the current date. For example, if the current month is October, selecting "Current Month" as a Dynamic Date Range will automatically set the date range to Oct 1 to Oct 31st. If the current month then becomes November, the date range will reset automatically to Nov 1 to Nov 30. The report or filter does not have to be changed as the range changes automatically.

Specific Dates - These are specific dates that are entered and you control what the range is. If a report is saved with these settings or a filter is remembered with these settings, those specific date ranges will be saved as well and when the report is re-run or the filter applied, it will always use those exact dates, they will never change.
Item Types
Item Types gives the option to filter the Item Comments to specific item types that contain comments.
Keywords Filtering
This report filtering option gives the user the option to return report results that contain the keywords entered.

Inclusion Check boxes
The two check boxes below will include or exclude the resulting Comments based on which boxes are selected.

Comment Type Filtering Options
Comment Type Filtering Options are set to filter on different comment types that exist with the item types, such as Project Status, Tasks Status, File Comment, Approval Comment and Issue Resolution.

User Filtering Options
User filtering options are set to filter the Item type based on the Author of the comment or by the resource that created the item type with the comments.

Project Filtering Options
Project Filtering Options can be set to filter based on Project Type, Project Status, Project name, Project Number and/or Resource Type. Selections available will vary from report to report.

Group By / Sub Total Options
The report can be grouped by column names or sorted by column names in either ascending or descending order.You can also stack several choices and group within groups or sort within sorts.

Column Selection Filtering Options
Column Selection Filtering Options will control the data fields displayed as columns for the report. Detailed information for setting preferences in the data field column displays is contained in the Page Display Options topic.
See Scheduling Reports via Email, Sharing Reports, Charting with Reports, and Saving Reports.