Project Managers and PMO Managers now have the ability to update multiple tasks at once using the new Bulk Task Editor.
Take a look at the far left on every Task List - does not matter which columns you current display - the Bulk Edit options are always available on the left.
Check the boxes next to the tasks you wish to update or click the Bulk Edit menu in the top left corner of the Task List
=

The top four options help you multi-select tasks by Check All, Uncheck All, Check only the Summary Tasks, or Check only the Non-Summary Tasks

Bulk Edit options access the Bulk Edit Tasks layer to make multiple changes at once

Options to Add or Remove a Resource are helpful when you want to add or remove someone from the Tasks selected

Any changes you make to the Bulk Edit Tasks layer will make that change for ALL checked Tasks
Current fields you are able to change:

Work Hours
Work Status
Start Date
End Date
Constraint Type
Resource Type

New!

Summary Task
Set the same Predecessor for all selected tasks
Task Owner
Add multiple additional Resources
Custom Fields (if set in the Custom Field configuration)

As the Tasks change, you'll see the list update on the layer - Hit "Done"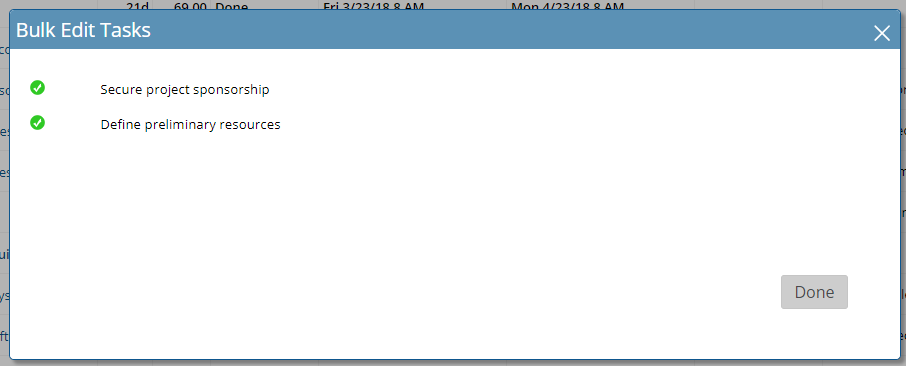 This feature should save Project Managers time when changing multiple tasks at once.