This article demonstrates a capability for linking browser-based hyperlinks to local file systems strictly for the purpose of showing that it can work under the correct set of circumstances. Local security policies, as well as built-in browser security will most often block this capability from working such that any end user of a corporate PC can make it work out-of-the-box. To be fully functional, it will normally require the implementation of a third-party tool, such as Microsoft SharePoint, to translate your internal file folder structure into proper hyperlinks which will work with most web browsers. Assistance from Project Insight implementing this functionality will require the procurement of professional services on a time and materials basis.
Project Insight will allow hyperlinks to website addresses, ftp sites, and your internal Windows file system using "Shortcut" from the Add drop-down selector. To link internally you will need to use the UNC path and access it from Internet Explorer (other Web browsers will not normally allow access to Windows Explorer). For example you could create a shortcut to a file on a shared drive internally by using the address: "file://///Machine Name/FolderName".
>
Select from the drop-down selector.

Complete the form selecting "Display in current web browser window" to load Windows Explorer from the link. It will do this automatically when using a UNC path without opting to display it in a new window.

Completing the form selecting "Display within iFrame" to load the folder within the Project Insight frame.

Second you must add your "Project Insight Website URL" and the "Machine Name" in your Internet Options' Trusted Sites. Due to browser security updates this is now a step that needs to be taken before Internet Explorer will allow a link to a MachineName to be opened (other Web browsers will not normally allow access to Windows Explorer).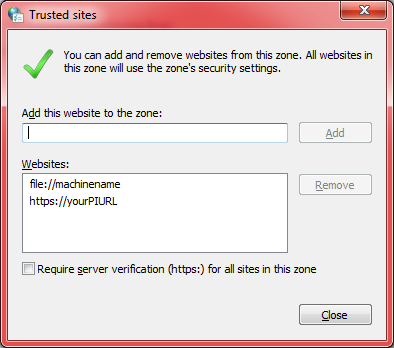 NOTE: If methods above do not work, you may need to contact your network administrator to discuss local file access and security settings.
Firefox

With Firefox do the steps above and an addition you must install a browser add-on. Click on the link below:
https://addons.mozilla.org/en-US/firefox/addon/local-filesystem-links/
The add-in inserts little folder icons around qualifying links and you have to click on the icons instead of the links themselves. Files (as opposed to folders) are not opened directly in this solution, but the folder is opened with the file in question selected – you just have to press Enter or double-click on it. You also have to close the Explorer window.