Adding tasks to an existing project from a template is helpful when a series of tasks is used over and over. From your project, using the Add Task icon, select "Add Task -> Add from Template".
This will present the form to select the project and task from the source template. In addition, you may want to choose a summary task as a target location for the task(s) from the template. Otherwise, the task(s) copy will add to the bottom of the list at the root level (no parent task).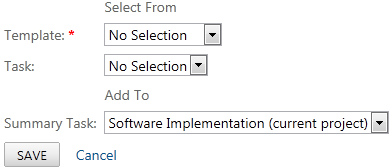 Choosing the task from the template will copy that task, and if it's a summary task, all children of the summary task recursively. Predecessor and successor relationships on any tasks outside of the template summary task will be dropped. These simple selections will perform the copy to the project upon clicking Save.
There are more options available for performing changes to task names, work, duration and adding repetitive processes during the population of the new tasks to the project. The common process for using these additional options is copying a single task, as opposed to copying multiple tasks from a summary task in a template, and making that task into multiple tasks in the project. For example, a single task to "test and deploy" may need to be done six times throughout the course of the project. All six tasks can be deployed from a single task copy and then placed in the appropriate list position following the creation of all six identical tasks.