Install the PI® Integration for Visual Studio Team Services in Project Insight > Administration > Get Apps & Add Ons. That's right! It's available on the Project Insight side.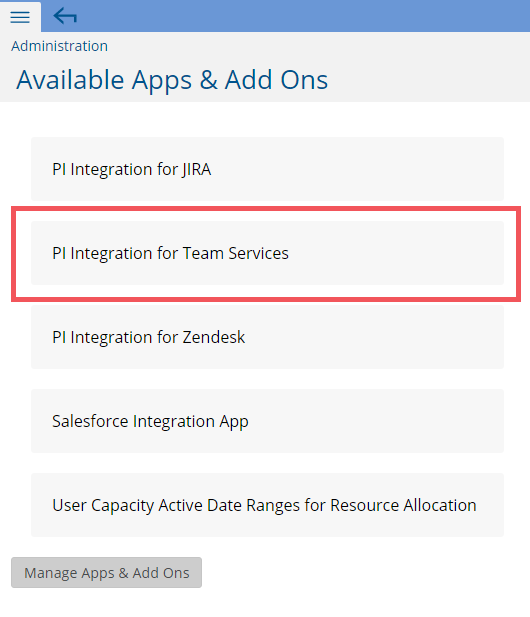 Install, Configure, Authorize

Click Install
This will take you to the "App Installed" layer. Yay! PI Integration for Team Services has been installed.
"Where to next?" you may ask yourself.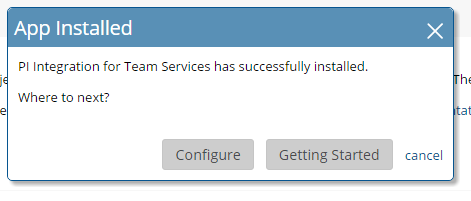 Configure: Takes you to the configuration page to start connecting your Team Services account to Project Insight - Click here!
Getting Started: Takes you to this documentation you are ready right now - very meta...
Cancel: Keeps you on this page. You'll notice the "Install" button goes away. Click the Your App & Add Ons button at the bottom of this page to go to the Configure page.
Set-up
Three steps to set-up your PI Integration for Visual Studio Team Services: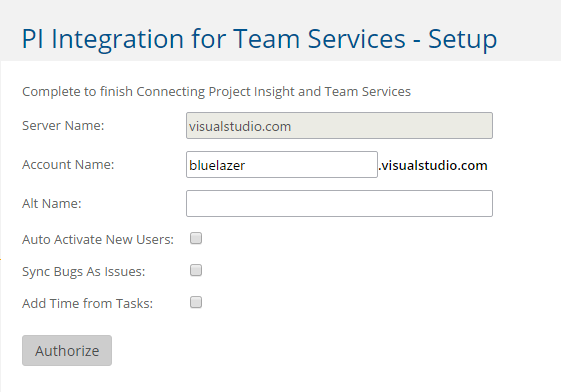 Enter your Account Name found in your Team Services URL (e.g. http://your-team-services.visualstudio.com)
Give your PI Integration for Visual Studio Team Services a catchy nickname (this is especially important if you will use more than one Team Services instance)
Make the following three decisions:
Auto-activate New Users
Your PI Integration for Team Services will sync Team Services users with Project Insight users automatically based on username and email address
If the integration does not find a user on the Project Insight side that matches Team Services, we'll make a user
This is important for the project manager to know who is performing the work or commenting on the task
By Default, Project Insight will create this new user as an INACTIVE user - meaning they are a placeholder and you won't be charged
Check this box if you want these new users to be added as ACTIVE in Project Insight (i.e. they will receive a welcome email from Project Insight to log in)
Sync Bugs as Issues
Check this box to bring over bugs in Team Services as Issues
Leave this box unchecked to leave bugs in Team Services and not see Team Services Bugs
Add Time from Tasks
Check this box to bring over time from Team Services when the Team Member enters Hours Completed
Leave this box unchecked to not sync Team Services' time entries
Authorize
Click "Authorize."
We'll take you to Visual Studio Team Services' Authorization screen. You may be asked to login to Visual Studio Team Services, if you have not logged in today.
Please Note: You will need a Team Services login to continue the Authentication. For best results, you should be given administrator permissions in Team Services to ensure you do not experience permission constraints when attempting to connect Project Insight projects to Team Services projects. If you authenticate with a user below Admin permissions, the integration could miss data. If this happens, ask someone with Team Services Admin permissions to login to PI, visit this configure page, and click the Reauthorize link.

Visual Studio Team Services requires we authenticate with their service and "Accept" the PI Integration for Visual Studio Team Services permissions request. Our suggestion is to hit "Accept" because to "Deny" this request will disallow use of our integration. You don't want that!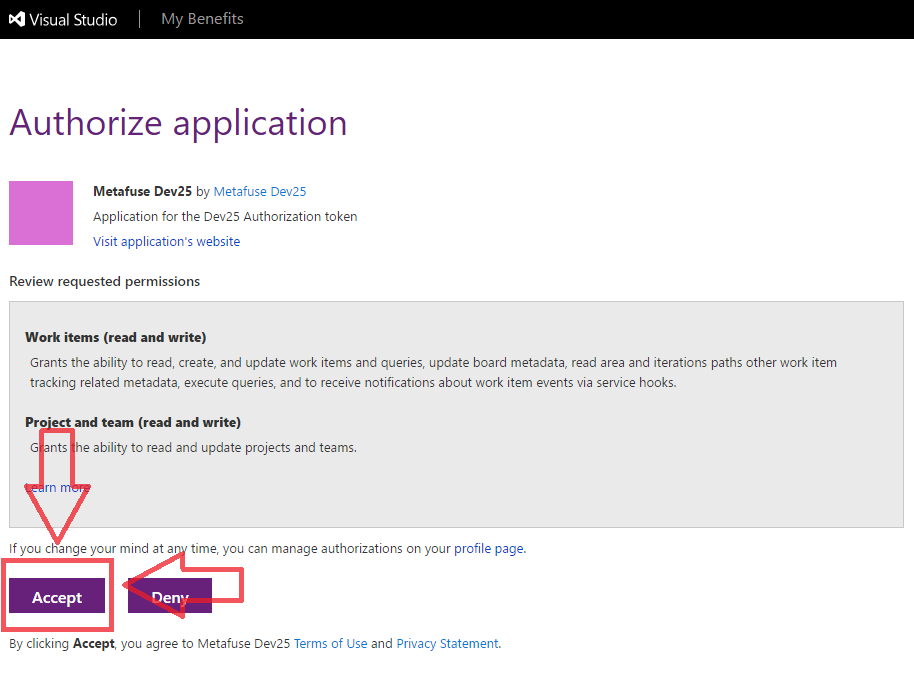 Configuration Complete
Yes, you can install more than once because some teams aggregate multiple Team Services! This is by design so you have link multiple team's Team Services to one Project Insight. Repeat these steps for each Visual Studio Team Services you want to sync. If you add additional PI Integration for Visual Studio Team Services by mistake, click "Uninstall" to make the additional boxes disappear.
Once installed, your project managers can link to Team Services projects for each of their projects. Read the Project Manager Guide to learn more about syncing projects.