Centralize and easily access all Project Insight information with PI Dashboards. You can customize your Dashboards with work item tiles. See Dashboards for a complete overview of how dashboards work and how to create, customize and manage them.
Quick Tip: See the list of available components in the Dashboard Page Display Options menu
Adding a Tile to the Dashboard
While on a dashboard, hover on the Display Options icon in the main menu for the form

A list of all the available components (and some other display options) appear in the drop down list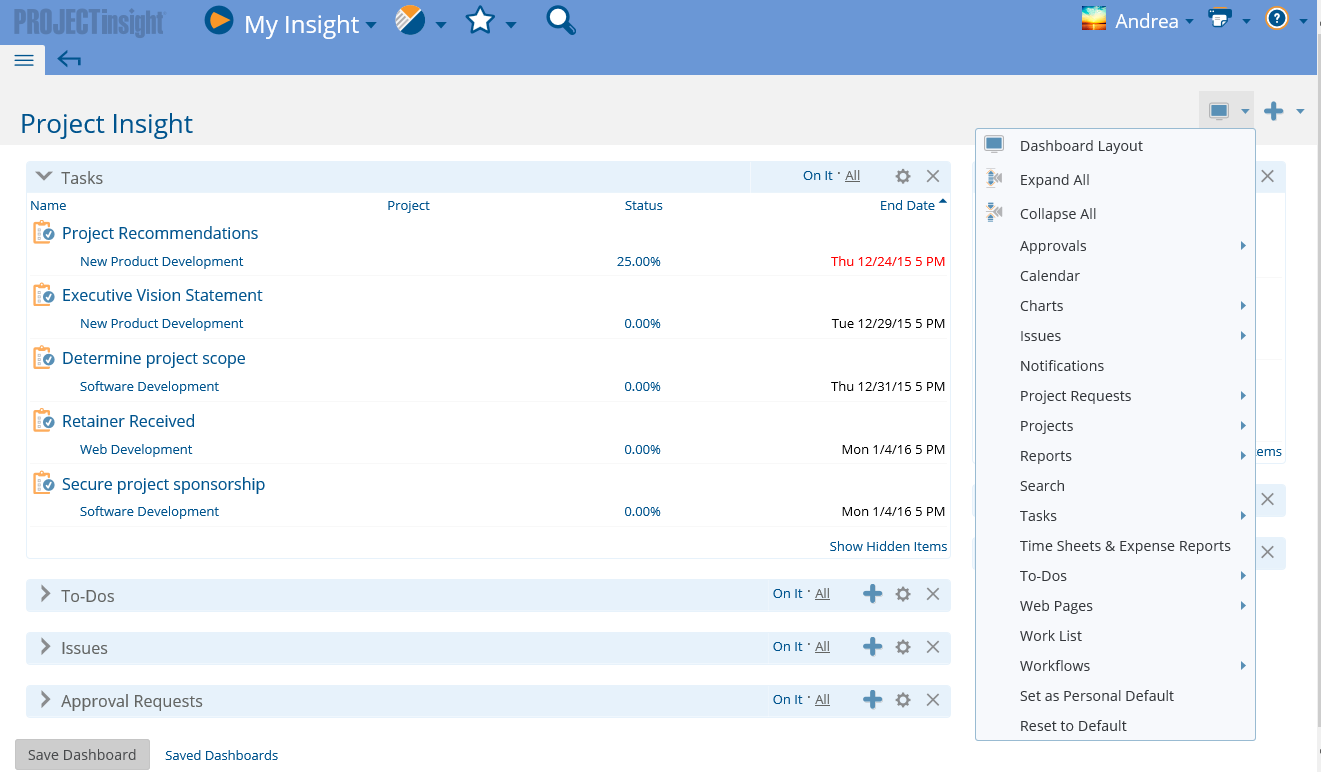 In some cases, there are sub-menus which are indicated by the

next to them. If there are sub-menus, hover on the main menu item and then the sub-menus appear.
To add a component to the dashboard, simply click on it from the Dashboard Display Options menu (or sub-menu)
Options available
Some tiles have individual display options (depending on the Work Item).
You can change what information is displayed in that tile with a Display Options icon

appears in the title bar. Once the tile is displayed on the dashboard, click on the icon to change that tile's individual settings.
Approvals
Calendar
Calendar lets you open up a standard calendar interface to view your to-dos and tasks within a calendar interface.
Charts
Charts lets select from a large list of pre-defined charts to add to your dashboard. The options

for each chart vary depending on the chart selected.
Issues
Dashboard - Issues Tile are open issues currently assigned to you. Options for the Issues List include: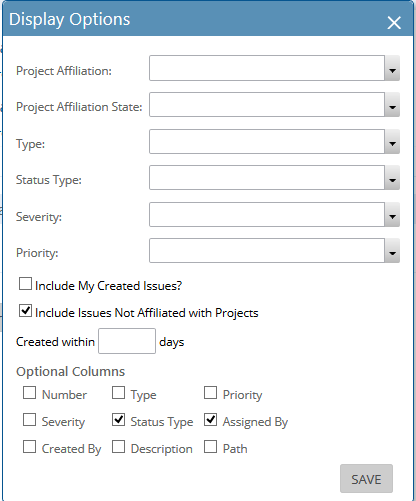 Dashboard - Issues Managing Tile are open issues which have been assigned by you. Options for the Issues Managing List include: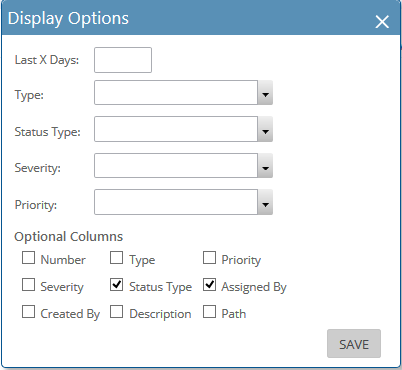 Notifications
Notifications will display all notifications that have been created by auto-alerts and require your attention.
Project Requests
Project requests show project requests to which you have been assigned. Options for Project requests include: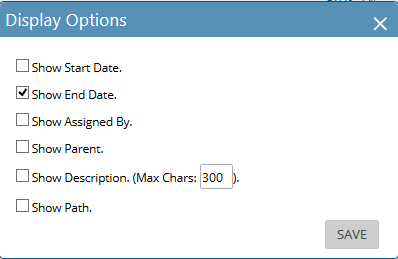 Projects
Reports
You can configure up to 4 saved or shared reports to display on your dashboard. The options for each are the same:

Search
Search add a search box to your dashboard to help you quickly find information by entering keywords or using the Advanced Search option for more search filter criteria.
Tasks
Time Sheets & Expense Reports
Time Sheet & Expense Reports is a list of time sheets and expense reports which are pending action. These will include reports you have submitted and those which need approval by you if you are an approver.
To-Dos
Dashboard - To-Dos Tile> presents a list of to-do items that have been assigned to you. Options for the To-Do List include: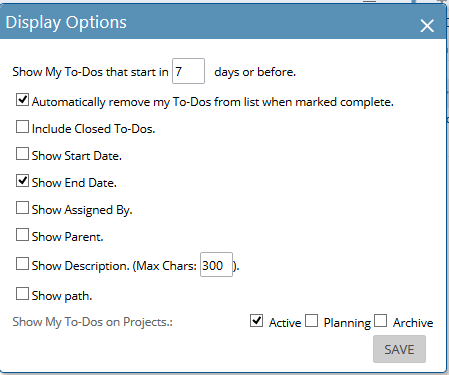 To-Dos Managing Tile shows to-dos that were assigned by you. Options for Managing the To-Dos include: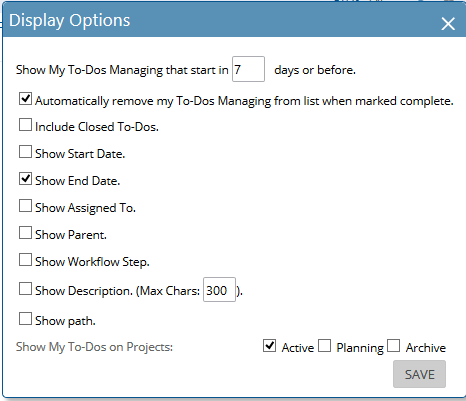 Web Pages
You can configure up to 4 URLs to display on your dashboard. The options for each are the same: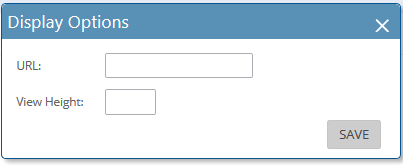 Work List
Dashboard - Work List Tile shows all items that have been assigned to you. Options for the Work list are extensive since it includes a variety of item types: