Expenses may be entered for tasks using the Expense Entry tab from the task detail view as described in this topic. Another method for expense entry, without the use of the task detail view, is covered in the Expense Entry Worksheet topic.
Clicking on the name of the task within Task View will open the Task Detail page.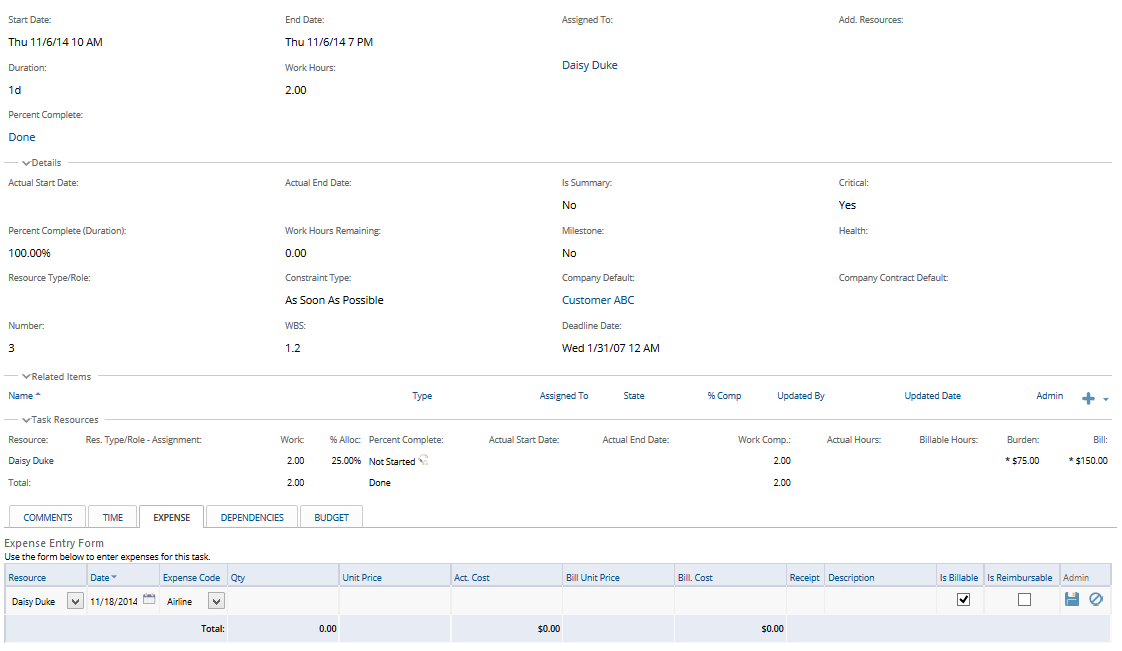 Within this window, project managers and team members who have been assigned to a task can review details and enter time and expenses along with notations on how much of the task has been completed.
To enter expenses, click the expense tab.

Team members (resources) can enter an unlimited number of expense entries.
Date should indicate the date on which the expenses occurred. Click the drop-down arrow to choose a month, day and year, or click the calendar icon

to choose a date from the interactive Calendar.
Expense Code indicates the billing code that should be used categorizing the expense. Click the drop-down arrow for a drop-down list of time codes predefined by your administrator.
Act. Cost is the actual cost of the expense.
Bill. Cost is the amount of cost that will be billed.
Receipt will display an attachment icon if a receipt image was attached to the expense entry.
Once an expense line as been added, the add receipt icon can be used to add an image of the receipt.
Description is for additional information about the expense.
Is Billable will designate whether or not this expense should be billed. Click to check the box if the expense should be billed.
Is Reimbursable marks the expense as reimbursable to the resource.