The Left Navigation lets you easily and quickly access the information.
Expanded and collapsed the sections by clicking the words My Work, Folders, Administration directly.
Silly Statement: If you are not an administrator, you will not see Administration section.
You may see a section for Invoice Records if you have the Invoice Records Add-On installed.
My Work
These are open work items assigned to you:
By default, PI displays the items you are currently assigned. For example, if you are not currently assigned any Issues, the Issues icon will not display.
However, if you'd like to customize your experience, you can use the gear icon you see in the top right corner of the My Work section - see the My Work article for more.
Folders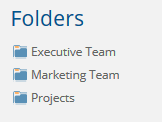 Administrators set up folders however makes sense for your workspace, so it could be by department, business unit, region, team or customer.
Administrators also determine which folders show on the left nav vs clicking into the folder to see its contents. If you have too many Folder trees open you may experience slowness.
Administration
All Admin configuration pages are located here and in the "Add-Ons" section of PI
Each Admin feature is grouped by topic - to open Admin pages concerning Project Management (like Project Budgeting) simply open the carrot...
For more information on Administration settings, please see the Administration article.