The Left Navigation lets you easily and quickly access the information.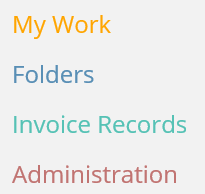 It can be expanded and collapsed as required.
On the left, of the main screen you will see the My Work and Folders sections. If you are an administrator, you will also see the administration section and if you are using invoices, you will have the Invoice Records displayed as well.
My Work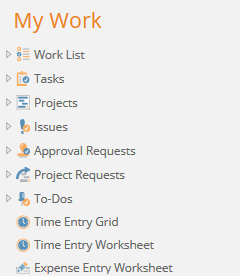 The My Work section may be opened by clicking on My Work. You will see a list of any item you are specifically assigned to from this menu. For example, any task or project you are assigned to will display. Any task, project, issue, approval, to-do and more may be accessed. The My Work section is available from any page in the solution, giving you one click access to any assignment. You may collapse any section by clicking the icon again.
Folders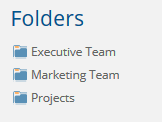 In the Folders section, you will see any folders or project spaces where you have access. Administrators may set up folders by department, business unit, region, team or customer. The example above is just a basic sample. You may collapse or expand the entire left navigation by clicking on the arrow at the top. This gives you more room to view task lists, Gantt charts, reports and any other page.
Administration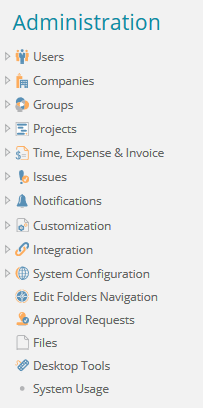 If you have administration access, you will see the administration section. Please review the Administration section for information on each section.
Invoices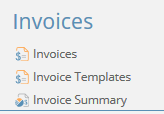 The invoices section will be visible for those with the appropriate permissions. Invoices, Invoice Templates and Invoice Summary are available for use. Please review the Invoice Topics section for information on each.


Learning How to Navigate in Project Insight