Grab the PI Integration for JIRA from the Atlassian marketplace for JIRA. Click the "Get it now" button to launch the integration wizard.
Before getting started please make sure your setting in Project Insight has the option to disable a setting option that prevents other sites from displaying your instance of Project Insight in an iFrame. PI Setting to disable to communicate with Jira.
Connect your PI Integration for JIRA with Project Insight
Enter your subdomain (e.g. http://your-pi.projectinsight.net)
If you are not an admin, you'll need to email the link provided to your admin to complete the set-up
If you are an admin, click "Sign In to Complete Connection"
If you haven't logged in to PI today, you'll be prompted with a PI login screen, then to the Accept Screen
If you have logged in today, you'll be taken to the Accept Screen
Accept the JIRA connection request
JIRA Configurations Options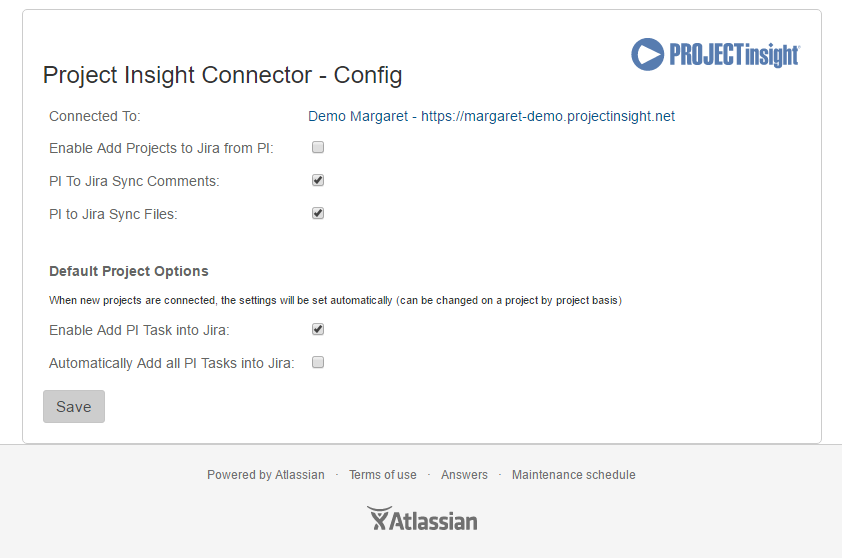 Connect to: This is your Project Insight instance

Enable Add Projects to JIRA from PI: Do you want projects started in PI to move into JIRA?

PI to JIRA Sync Comments: See Project Insight comments in corresponding JIRA tasks/issues?

PI to JIRA Sync Files: See Project Insight files in corresponding JIRA tasks/issues?

Under the Default Project Options

Enable Add PI Task into JIRA: Do you want tasks started in PI to move into JIRA?

Automatically Add all PI Tasks into JIRA: Once the projects are connected, do you want all tasks started in PI to move into JIRA automatically?

Click

Project Insight Configuration Options
At this point, if you hop over to Project Insight, your PI admin will see "Manage Apps & Add Ons" in the Administration section of Project Insight
Within Manage Apps & Add Ons find the PI Integration for JIRA and select the URL for your desired JIRA instance
If more than one JIRA instance is synced with Project Insight, you'll see the complete list here
Expand the desired URL to see the options to Configure, Uninstall, Disable
Click Configure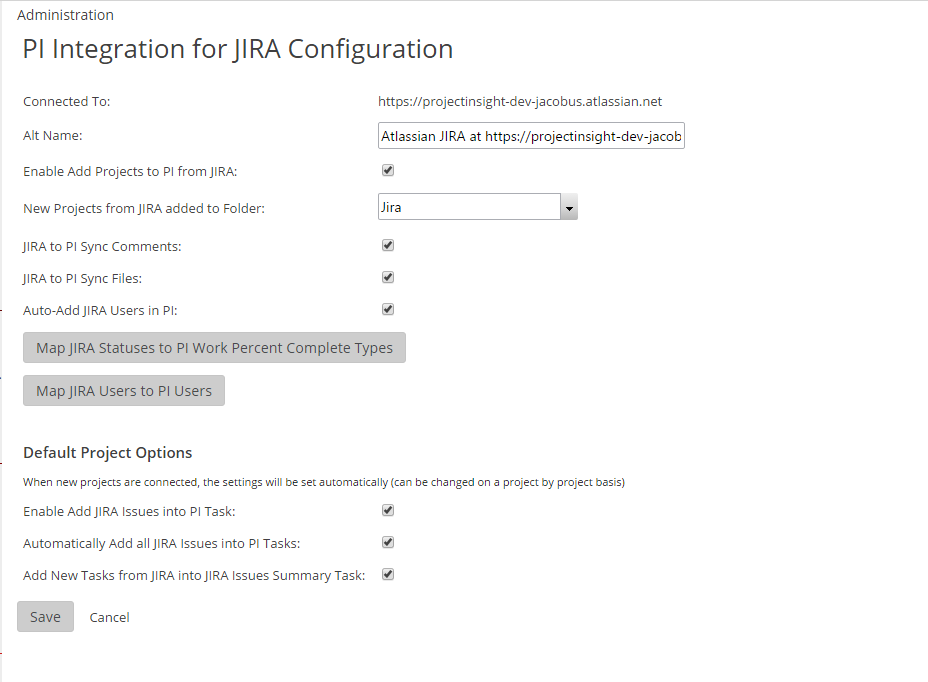 Connect to: This is your JIRA instance

Nickname: If you have multiple JIRA instances, you can rename each instance so they make sense to your PI administrator

Enable Add Projects to PI from JIRA: Do you want projects started in JIRA to move into PI?
New Projects from JIRA added to Folder: This dropdown selects which Project Insight folder holds your incoming JIRA projects

JIRA to PI Sync Comments: See JIRA comments in corresponding Project Insight tasks?

JIRA to PI Sync Files: See JIRA files in corresponding Project Insight tasks?

Map JIRA Status to PI Work Percent complete Types button: Follow this interface to define which JIRA statuses equal to Project Insight work statuses?

Map JIRA User to PI Users button: If users in PI and JIRA are the same, use this tool to tell each solution who's who

Under the Default Project Options

Enable Add JIRA Issues into PI Tasks: Do you want Issues started in JIRA to become PI tasks?

Automatically Add all JIRA Issues into PI Tasks: If moving Issues started in JIRA to PI, should this be done upon Issue creation automatically?

New JIRA Issues are added beneath the "JIRA Issues" PI Summary Task:​​​ Check this box to group all JIRA issues into one bucket called the "JIRA Issues" PI Summary Task - This keeps your task list organized if you prefer JIRA Issues separated from the Work Breakdown Structure (WBS)