What is a Project Scorecard?
Prioritize your organization sets Goals, Critical Success Factors and Key Performance Indicators
Administrators can create or change your base scorecard using Building Scorecard's Criteria in Administration
Once the base has been setup, your organizations priorities and such will be pre-populated on the Scorecard tab
First - install the Add-on for Project Scorecards in the Get Add-ons section of the Administration side of PI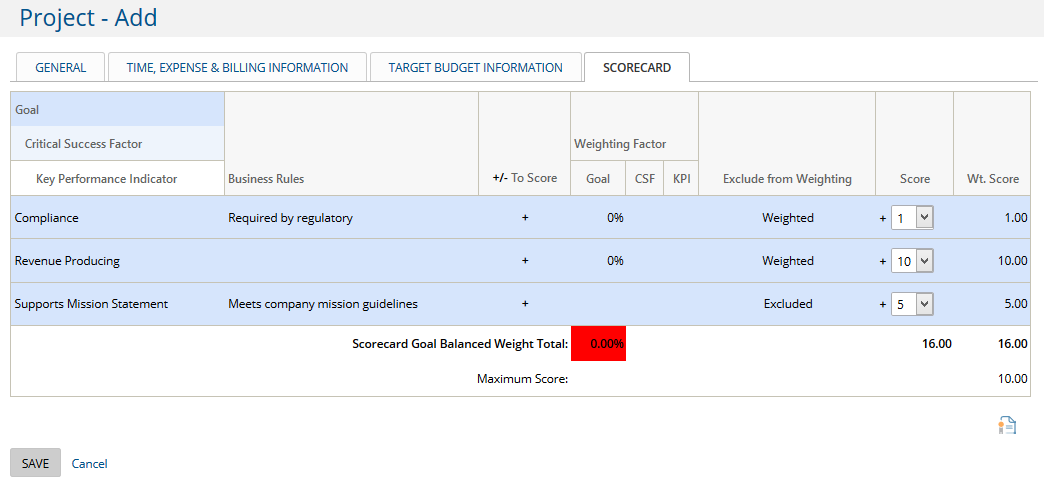 An alternative way to view and update your project scorecard is on the Project Status Page:
From within your project, select Status from the View drop down list.
In the scorecard tab, click on the View Scorecard icon .
In the score column, select the appropriate score value (1 – 10) from the drop down list for each item which can be scored.
Once all the values are set, click the Update Scorecard button at the bottom of the scorecard. This will give you the project score for the project without actually saving it.
Make any changes necessary, clicking the Update Scorecard button to verify your input.
Once you are finished click Save.
Viewing a project's score
Within your project, select Status from the View drop down. In the scorecard tab you will see a project current score and history.Click on the View Scorecard button

to view the details of how the scorecard was set up.
The right side of this area shows you the project's scoring history. You can see all the changes to the project's scoring and the details.

The "scorecard" score is available as a column to display on many of the pre-defined reports in Project Insight. These reports are available my clicking on Reports in the top navigation.